I have to admit that food was not the driver for visiting Iceland. I wasn't sure what to expect. We booked the chef's choice menu at our hotel really so that we knew the costs before we arrived. Iceland is very expensive and eating out in particular hits the wallet.
However I was blown away by the food. We discovered that the great thing about the chef's choice menu was that you got to eat a range of things from the menu throughout your stay ranging from the cheaper to the more expensive dishes and the chef selects them to show the best of local and seasonal ingredients.
The starters we had during our stay were:
Lightly cured salmon in lemon with smoked trout roe, fennel and dill vinaigrette and egg yolk
Wild mushroom soup with assorted mushrooms and pickled local mushrooms ( I forgot the photo of that one!)
And on the last night a dish I had been hoping would appear: reindeer carpaccio. Melting in the mouth with Parmesan and truffle oil giving an added sense of decadence.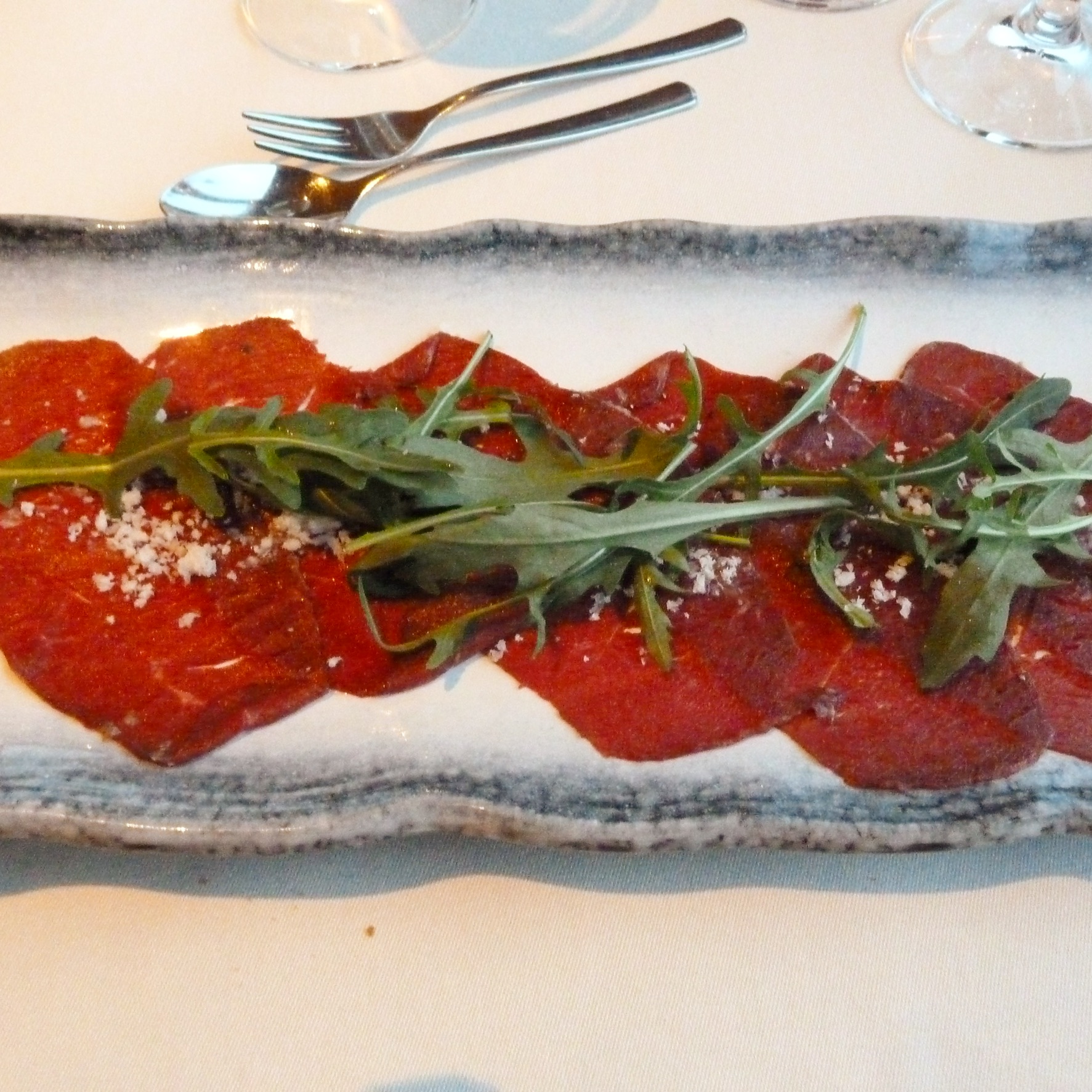 I only made one swap throughout our stay swapping mushroom soup to ensure I didn't miss out on the cauliflower starter that particularly intrigued me.
Cooked and roasted cauliflower with celeriac purée, pickled red onion and buttermilk dill sauce.

The main courses were particularly interesting. On the first night we had pan fried chicken breast with potato purée, rhubarb chutney, onion and black pepper sauce. I was unsure of how the chutney would work but it did.

The second night we had Icelandic lamb, one of the more expensive on the menu, and a particular highlight for us both. The flavour of the lamb was simply incredible and it was cooked to perfection.
Pan fried fillet of lamb with green pea cream, green peas, carrots, carrot purée, potato foam and brown cheese sauce.

On the last night we had Salmon sous vide with celeriac purée, watercress vinaigrette, herb mayonnaise and kale. I have never been serve such a large piece of salmon before and it just melted in the mouth. The Hotel sits beside the largest salmon fishing river in Iceland so it seemed fitting to eat salmon on our last night. The watercress vinaigrette added a wonderful sharpness to the dish.

Each night our main courses were accompanied by 2 side dishes. Potatoes with dill butter and barley in a dill sauce. The dill butter was rather addictive and the barley went surprisingly well with all of the meat and fish we had, providing an almost nutty flavour and texture to our dishes.
The desserts were like all the other dishes beautifully presented and showed great attention to detail though not highlighting Icelandic ingredients in quite the same way.
The carrot sorbet with the carrot cake however was a lovely surprise.
Carrot mousse with carrot cake, roasted coconut and carrot sorbet.

Chocolate mousse with sea berry purée, chocolate wax and milk ice-cream.
Though it wasn't the reason for our trip or our stay at Hotel Ranga, the food we ate there will stay with me for a long time.
Oh and I forgot to mention that one of the breakfast options was make your own waffles! Little jugs of batter, waffle machines, a range of toppings. EVERY hotel should have this.