July was another great month of eating with friends, inspiring young chefs and a weekend by the sea.
Riley's Fish Shack
There is nothing better than local fish and seafood cooked simply and you can't get any better than Riley's Fish Shack.  A wooden shack nestled in St Edward's Bay in Tynemouth using a wood fired oven to do most of the cooking – it's perfect.  The food is sensational and tasting the sea air as you eat it is a little slice of heaven.  Be prepared to queue. Trust me it is worth the wait and you might want to get an extra portion of the potatoes, one portion isn't enough.
The Chefs of Tomorrow Project at Le Cochon Aveugle
We are great fans of Dan Doherty and have been following this project for a while. We were delighted that the project decided to move out of London and come to York, allowing young chefs in our area to showcase their talent.  This was an evening I won't forget in a hurry and makes me very excited about the future of food in our region.  The young chefs from Arras, Home, The Black Swan at Oldstead and Le Cochon Aveugle showed such skill and talent in a rather daunting setting. The starter of eel ramen created by Luke from Arras was up there with the best.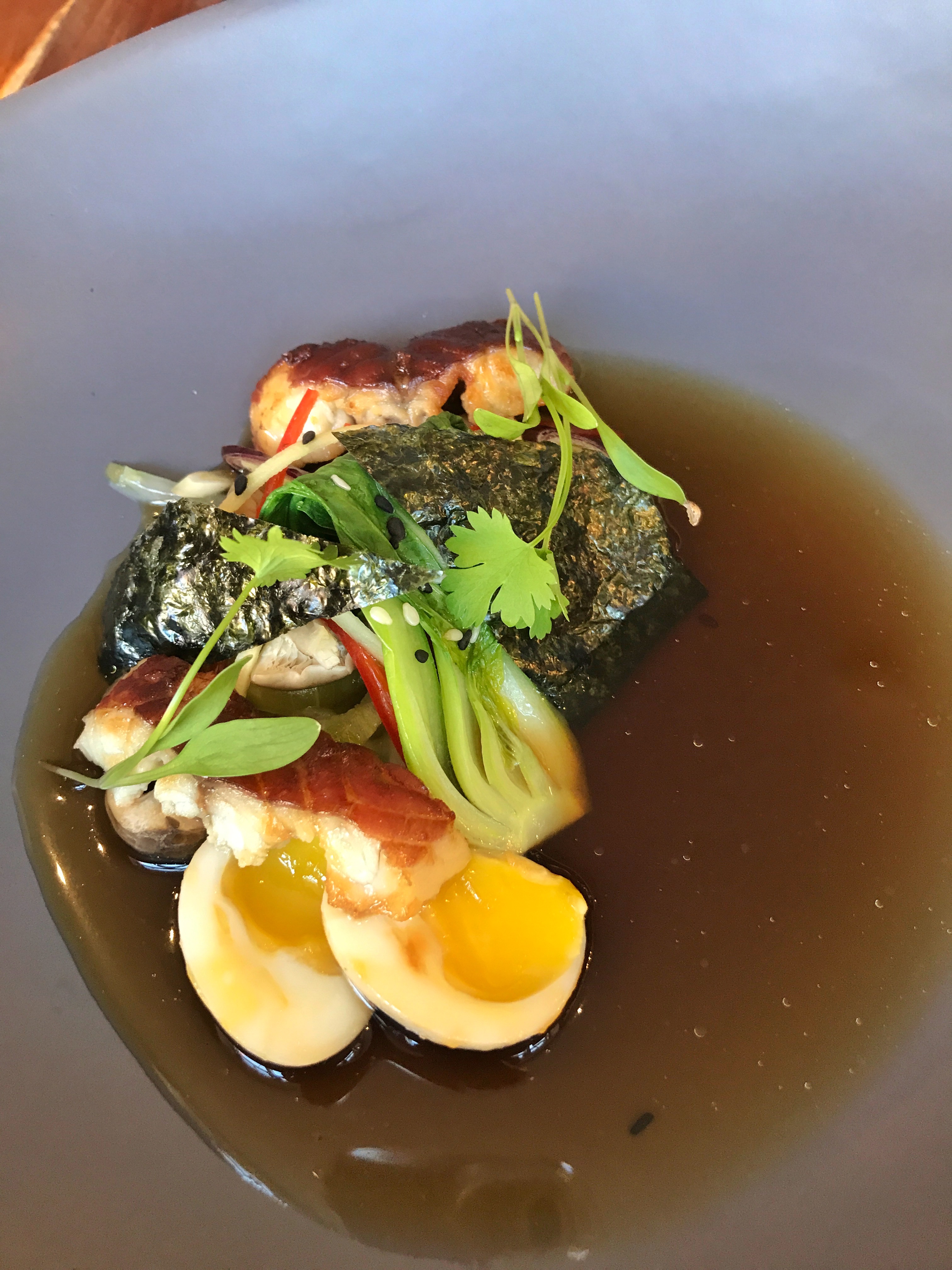 Lunch at Skosh
Yes I know, we went again but the food is incredible and exceptionally good value.  The pineapple, rum and smoke cocktail was mind blowing and I partularly loved the new smoked trout dish.
York on a Fork's first Streetfood Sunday
Streetfood Sunday at the Fulford Arms is the brilliant idea of York on a Fork.  A selection of streetfood (this month by Street Cleaver and Ruby's Kitchen) great beer and sitting in the sun with friends; there is no better way to spend a Sunday afternoon.  Follow York on a Fork on Twitter or Facebook to find out about dates and go along if you can.
A weekend in Scarborough
I will find any excuse to escape to the sea.  I love the summer months when we can escape in the van and enjoy local food.  This is the first time we tried The Plough at Scalby and we were impressed.  The local lobster was a big hit and they had a great selection of local beers and gins.  We will definitely go back.
No trip to Scarborough is complete with a trip to Cowshed. A particular favourite of ours and the sweet potato fries are amazing.  Make sure you book as it gets really busy.
A weekend in Edinburgh: Norn
I was rather excited to book Norn.  It's been on the list ever since I read Marina O'Louglin's review in the Guardian.  This place is incredible. It uses lots of techniques to preserve native ingredients and takes even the humble carrot and makes it the most flavoursome thing you've ever eaten. The natural wines list is also rather spectacular.  I loved the blurred lines between the kitchen and front of house as chefs brought out the dishes to the table and I would fight people for that bread and butter. Oh my it's delicious.
If you are looking for somewhere relaxed to enjoy wine, charcuterie and cheese in Edinburgh then look no further than Smith and  Gertrude.  I love this place and go every time I'm in Edinburgh. The staff are great, the ever changing wine selection always has something exciting on it and the food just right to while away a few hours on an evening.