If you suggested to me that my love of food would take me on a culinary adventure by way of a train to Doncaster and a walk to Doncaster markets I would have thought you had gone mad. BUT there I was, at Doncaster Fish Market having the time of my life. Turns out Jay Rayner knows what he is talking about 😉 Clam and Cork is everything I hoped it would be. Full on northern charm and hospitality that extends from staff to the plates of food. It sits on the edge of the market, allowing the sunshine to tease you, right next to the fish stalls. I'm a fan of food traceability and you can literally see where your fish has come from in this place. 

Clam and Cork offers a short but hugely inviting menu, I was on the edge of saying 'all of it please' when we were asked for our order. We went for a main of monkfish burger with chips and two small plates – calamari with chipotle mayo and roasted peppers, and pan seared scallops with lime, coriander and anchovy dressing. It was exceptional. No faff, no ponce, just damn good seafood treated with love and care. The scallops were cooked to perfection and the dressing perfectly balanced. The coating on the calamari and the monkfish in the burger had a delightful kick, beautifully accompanied by the chipotle mayo. The chips were just how my mum makes them.  The finest kind of chip. All if which was garnished with pea shoots. The queen of garnish. I can't think of a better way to spend a lunchtime. We chatted away to the fishmonger from the next door stall and the chef about our love of food (and our love of Doncaster Sheffield airport) as we ate our lunch and, as if the afternoon wasn't already going swimmingly, our visit coincided with the slow cooked pork coming out of the oven so we got a sample of the most stunning pork flavoured with star anise, ginger and chilli. Anyone visiting tomorrow is in for a treat!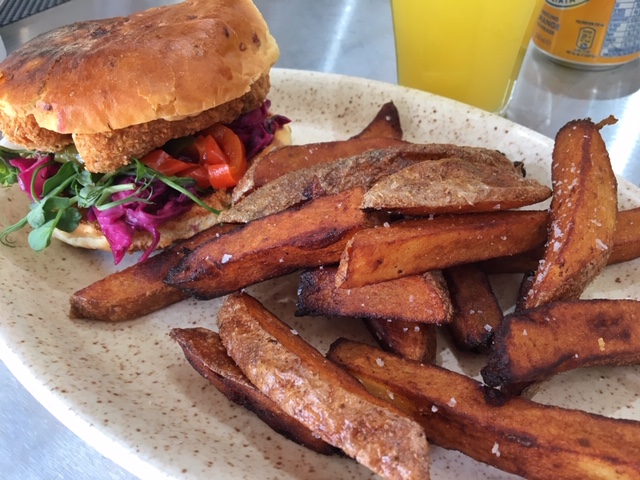 I can imagine we will visit this place often! I mean, it's only a 20-minute train journey from York and less than five minute walk from the station.  Why wouldn't you?