I'm embarrassed to say I have never been to Halifax so we decided on a day of exploring before heading to the Moorcock Inn later on.  Turns out that was a great idea as the Chow Down was on all weekend at The Piece Hall.   If you get the chance go.  Make a day of it, explore the impressively refurbished Piece Hall with its multitude of independent shops, go to the industrial museum and watch quality street being made and lap up the atmosphere at the Chow Down whilst eating a Lebanese chicken kebab, bao buns, deep fried doughnutty goodness and drinking Magic Rock High Wire in the sun.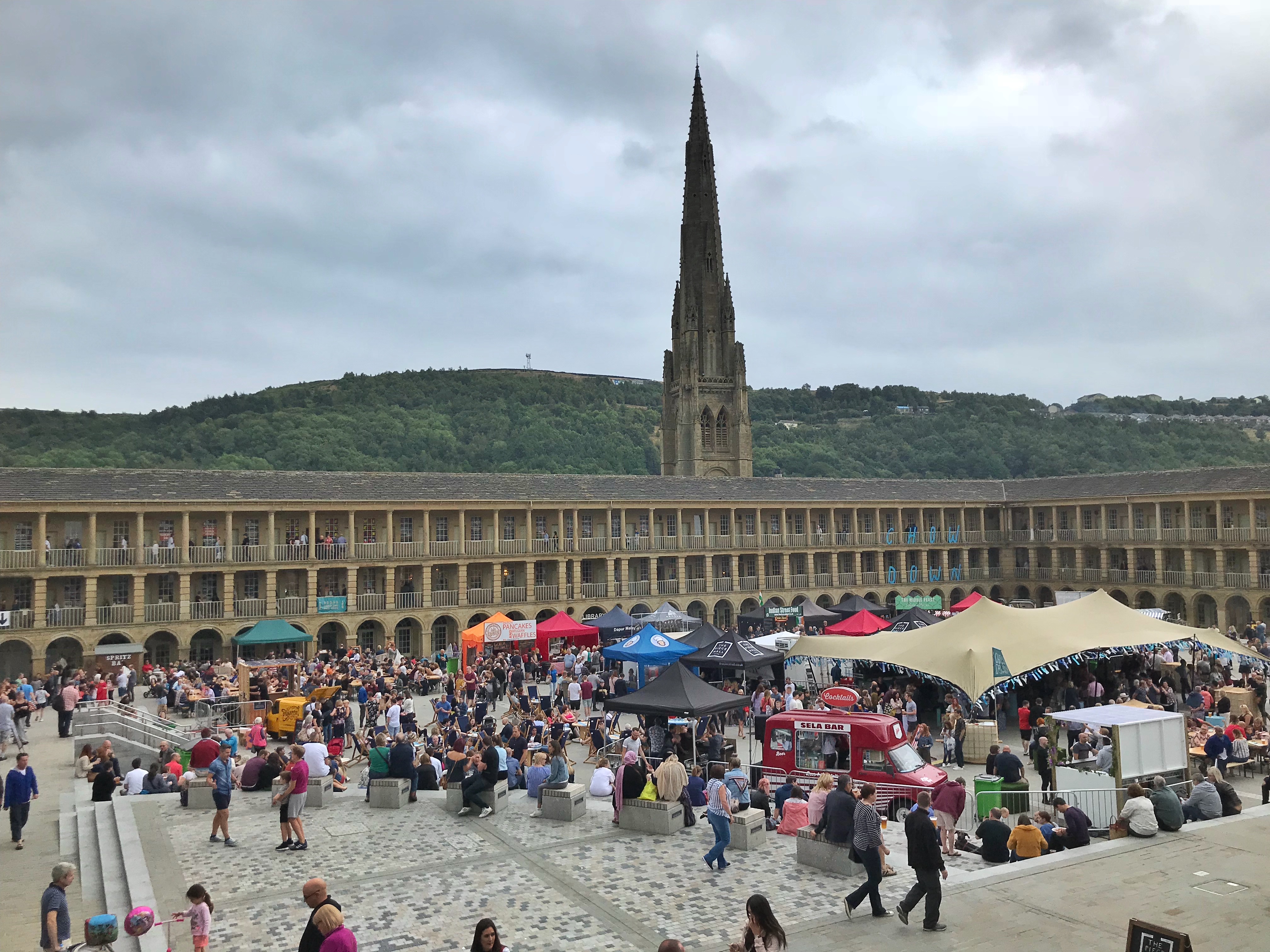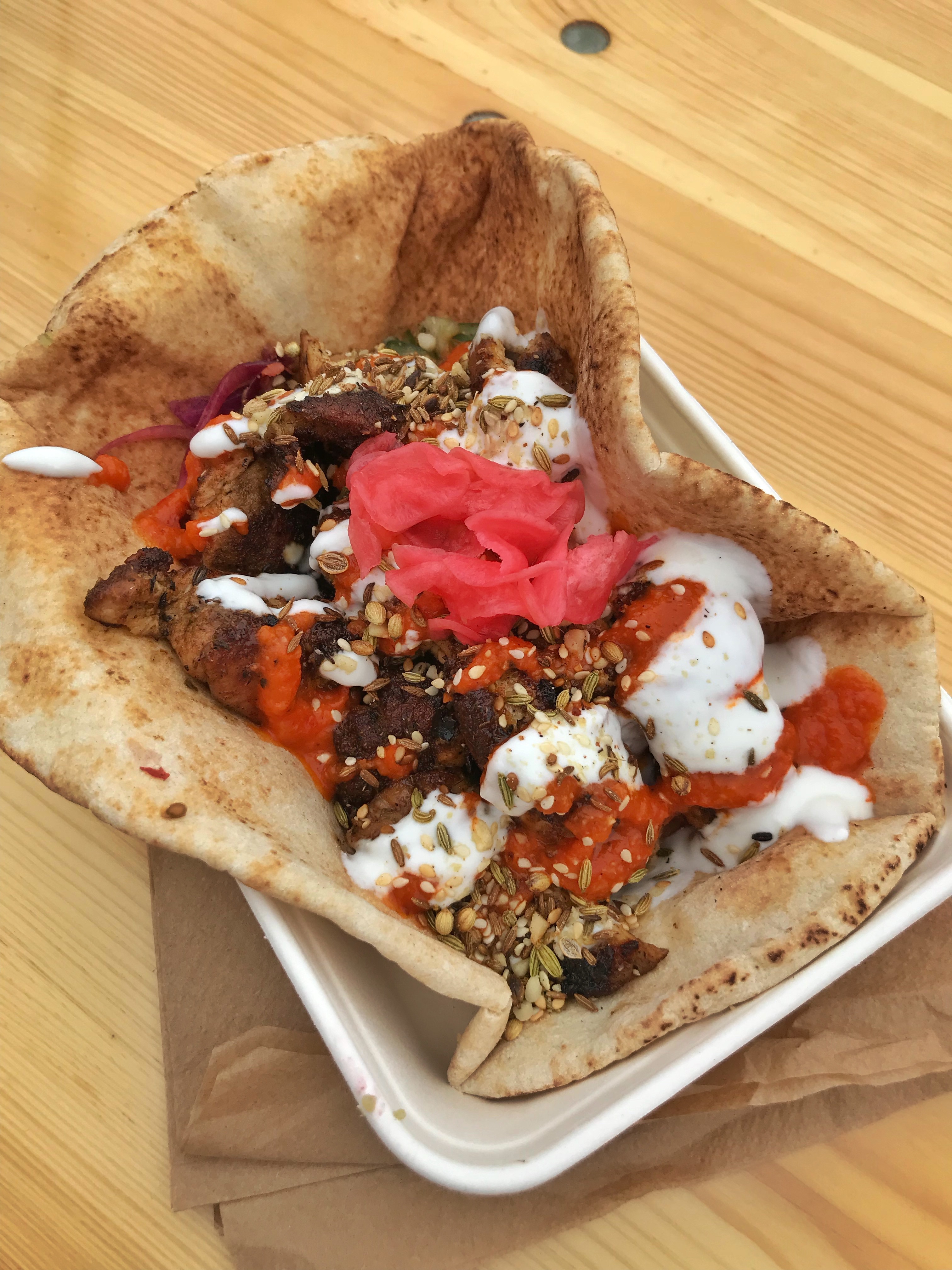 Then off we went to The Moorcock.  There is always a risk in going somewhere that a few people have recommended to you.  You build up a picture in your mind that can lead to utter disappointment if it doesn't match up.  However, when both Marina O'Loughlin and Josh Overington tell you about somewhere it is generally wise to listen.  I must admit when we arrived and looked at the slightly tired exterior of this isolated pub, high on the moor, I began to doubt we'd made the right decision.  Though we all know you should never judge a book by its cover and as we walked through the door I'm glad I didn't.
When it comes to dining out, some might argue against understatement, preferring sophistication and style. I, however love simplicity; ingredients being given room to breathe and tell their story.  For me that's what sophistication is.  The confidence to keep it simple and not relying on irritating foams or swirls. 
Part of the story of The Moorcock is the connection with nature and fire.  Much of what is served has been cooked, at least in part, in the woodfired ovens outside.  Our table by the open window next to the ovens just added to the evening for me.  The smell of wood fire on a summer's evening is a joy.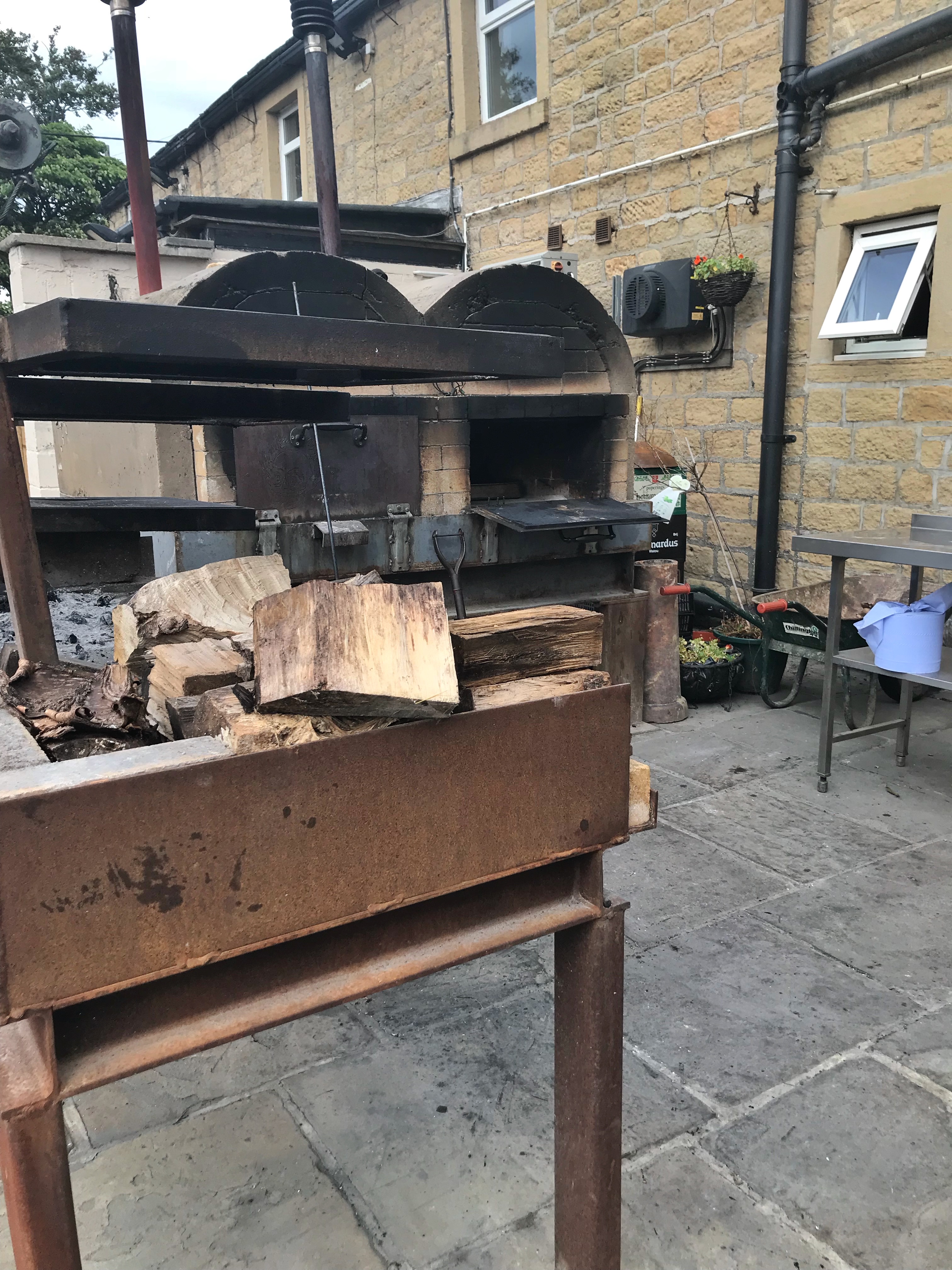 Simplicity runs through this menu.  No choices, other than what to have from the wine list and with Gruner Veltliner as one of the choices I was confident it would be a good evening.  The Moorcock doesn't mess about. One menu, eight courses, amazing value.
The first to arrive was the bread and cultured butter. Oh my. It's good. Really really good. So good that we wanted to buy some but other pesky diners got there first and we were out of luck.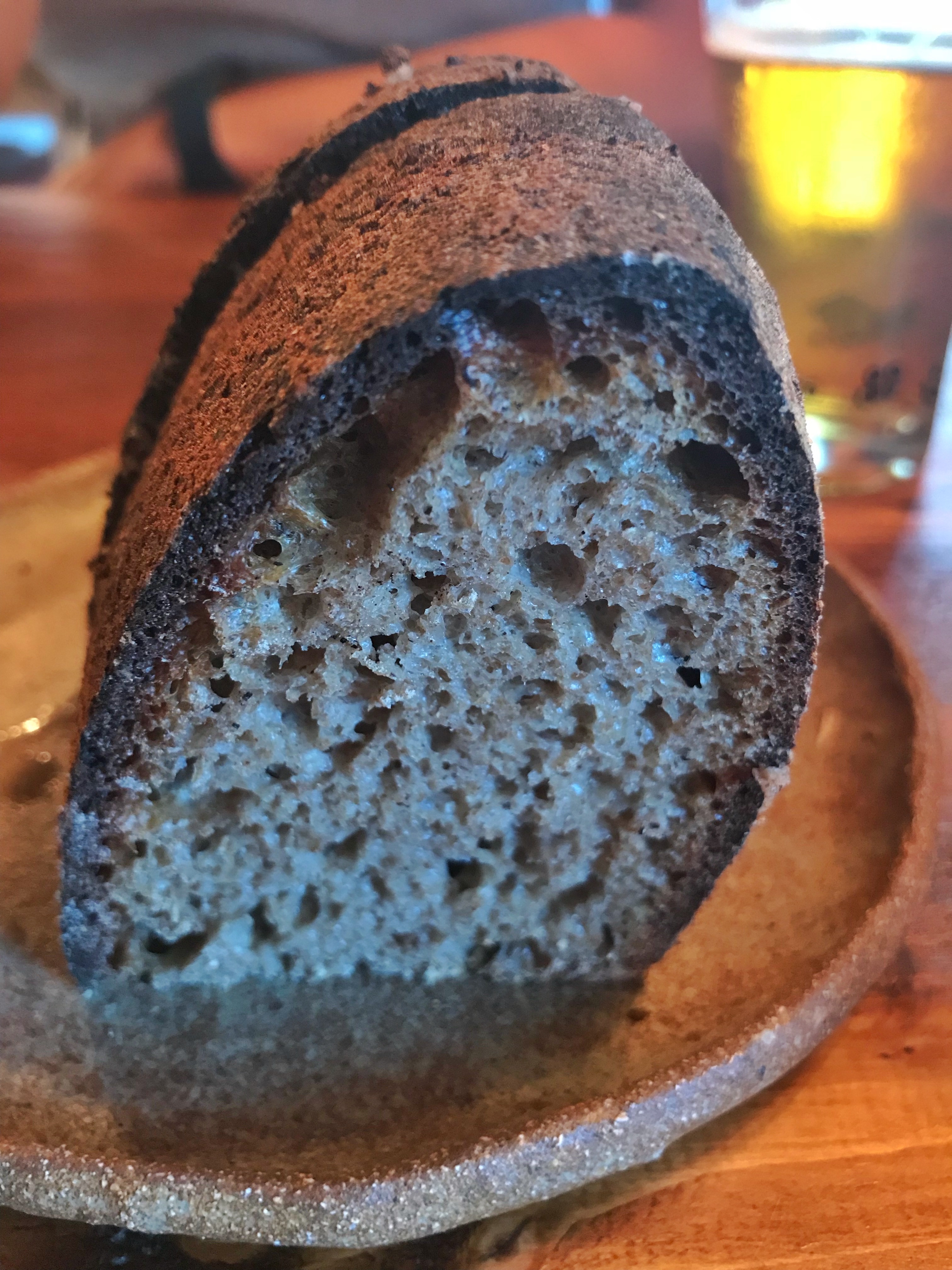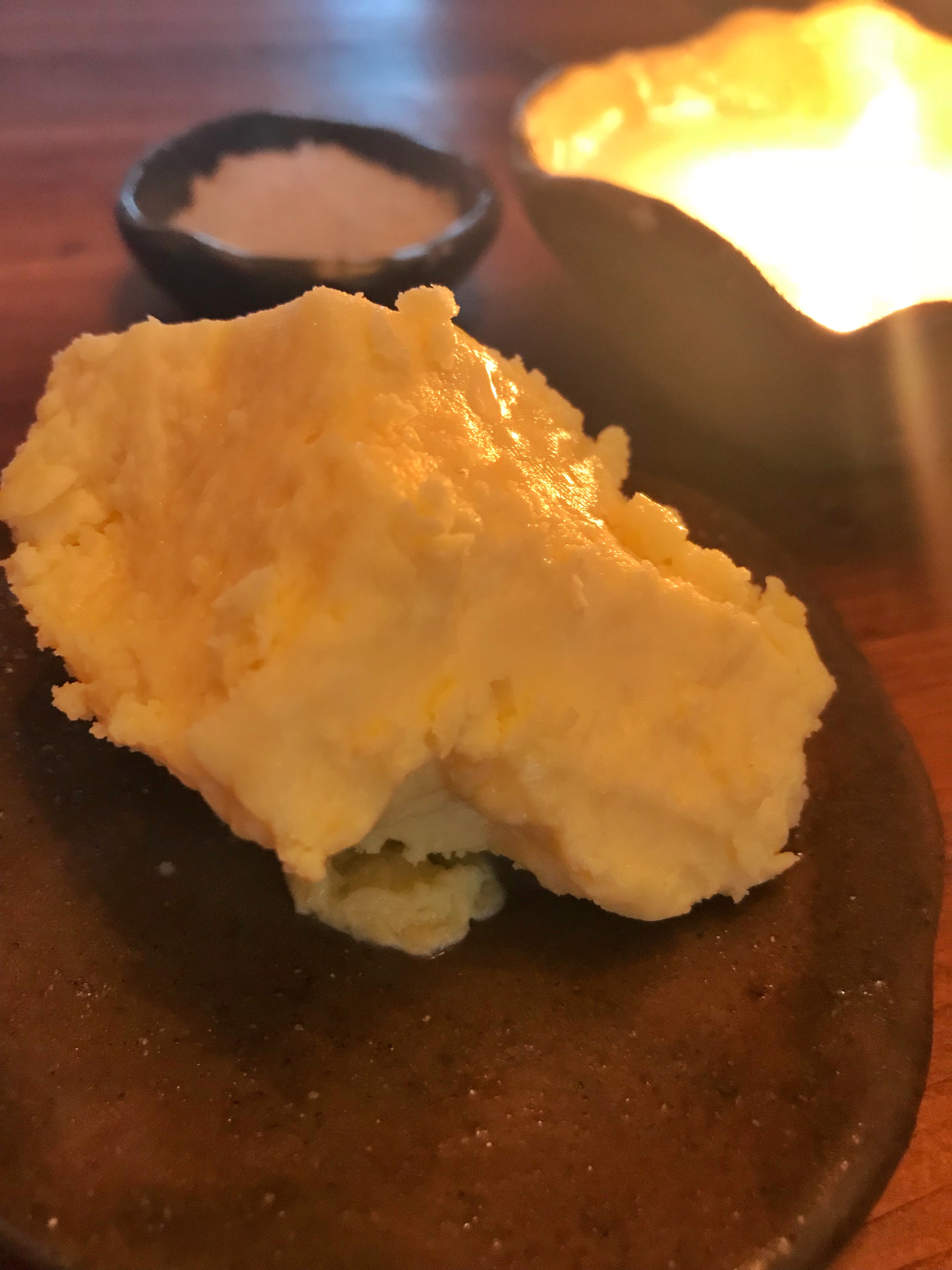 Next came a plate of 'snacks' and confirmation that this was the kind of place for me. Anyone who can boldly serve woodfired broad beans in their pods with a sprinkling of lovage salt is my kind of chef.  I do have a slightly unhealthy obsession with broad beans and there is nothing more satisfying than opening up the pods and enjoying fresh broad beans at this time of year.  Turns out fire just makes then even better and so my plans for a woodfired oven at home are picking up a pace. Also on the plate sat two perfect slices of cured sea trout with some fresh home made cheese which were a total delight.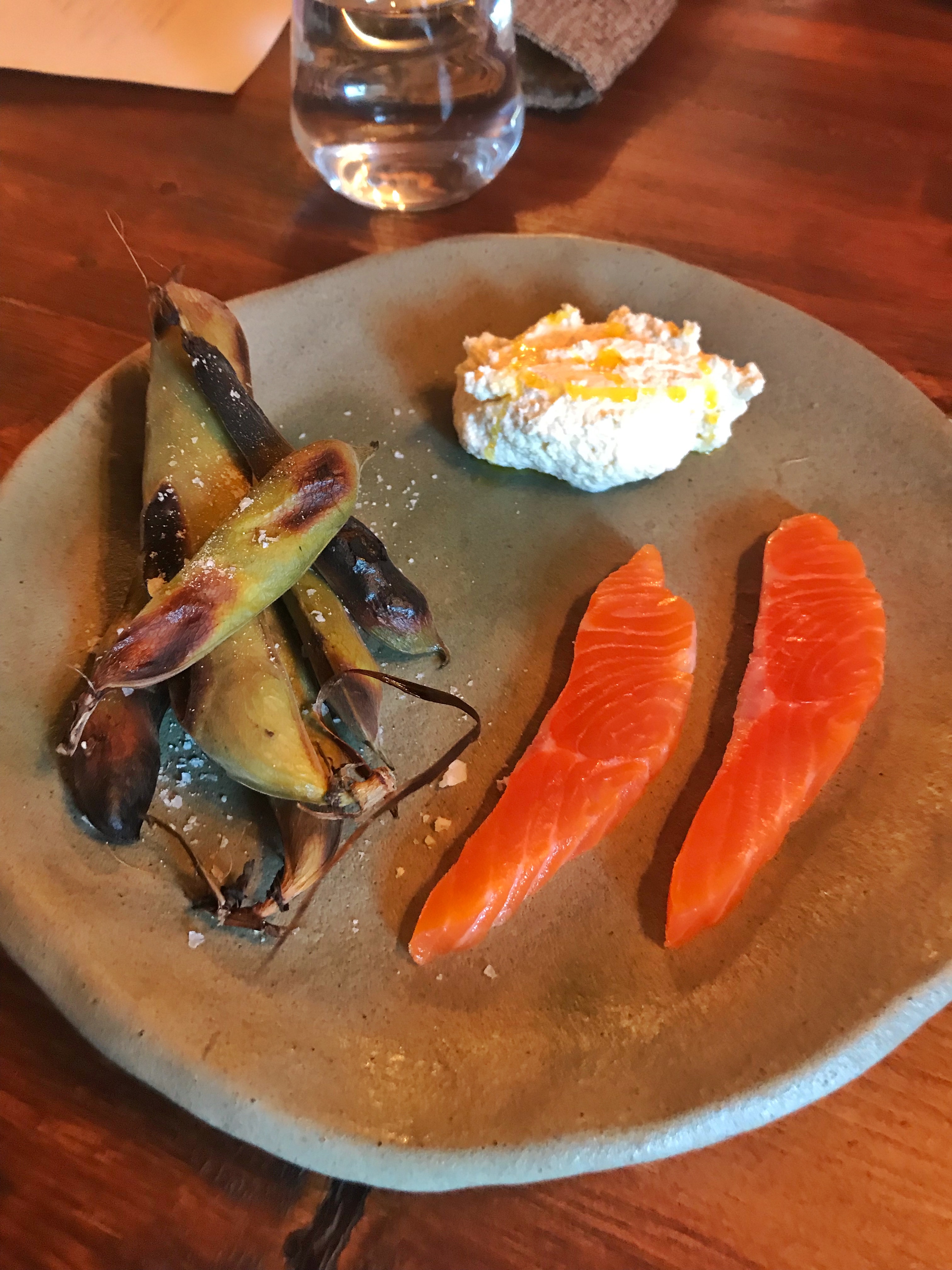 Our next dish was titled courgette, herbs, flowers, currants. When I read this description I was imagining dried fruit (don't ask me why). What arrived was an explosion of lightly pickled whitecurrant joy nestled amongst fresh yoghurt, herbs and strips of courgette lightly cooked with a hint of the smokiness of the woodfired oven.  Perfect for a summer evening. 
The lightly grilled Lindisfarne oyster with chamomile was paired with a superb bacon and scallop sauce.  I'm not a big fan of oysters (or chamomile) but the texture of them lightly grilled suits me well and the fragrance of the chamomile balanced the sauce with no reminiscence of the tea my mum drinks.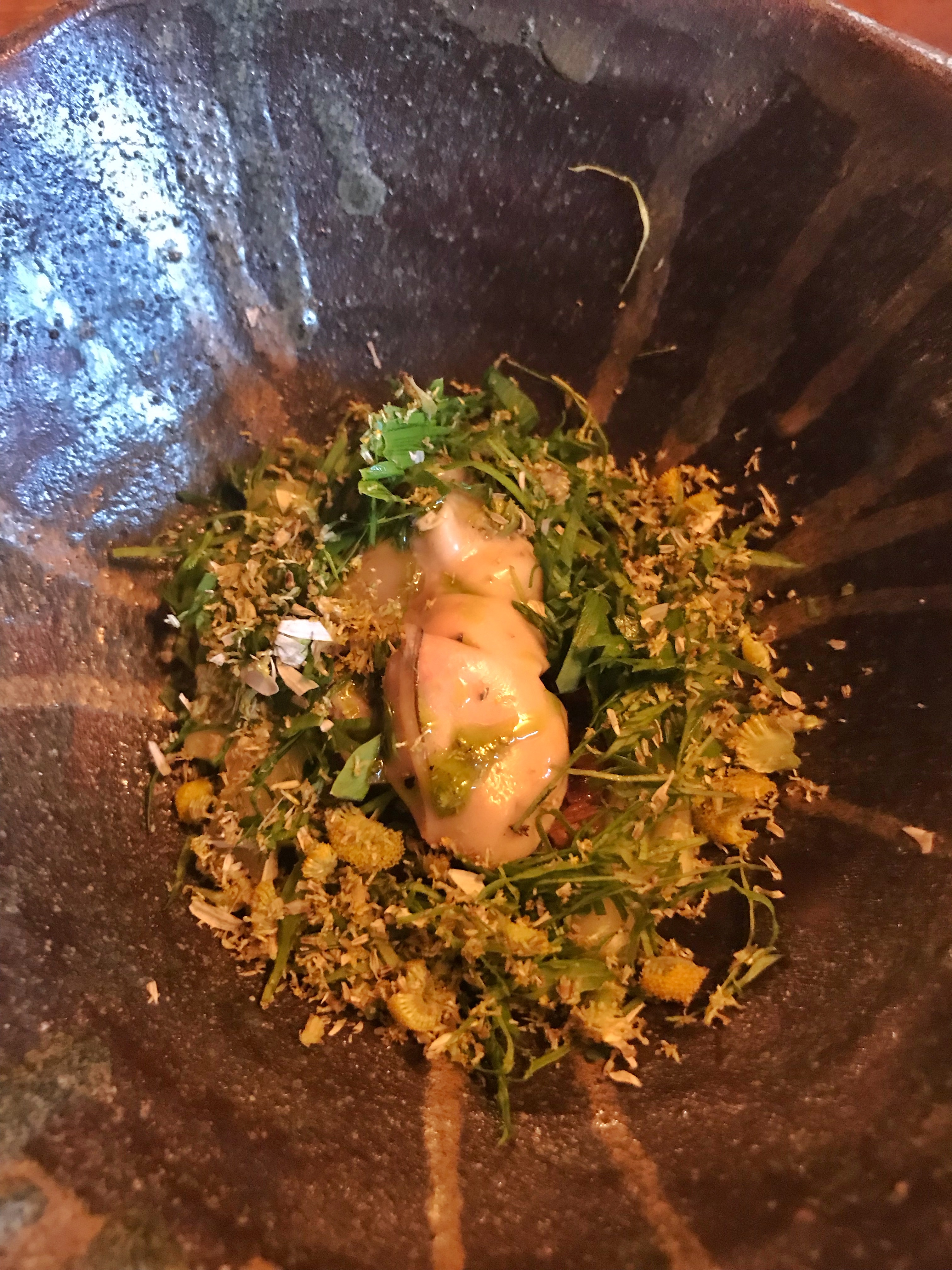 Monkfish with smoked egg yolk and marigold leaves was a confident dish and a highlight of the evening. The rich and creamy smoked egg yolk and a hint of tarragon bringing the dish to life.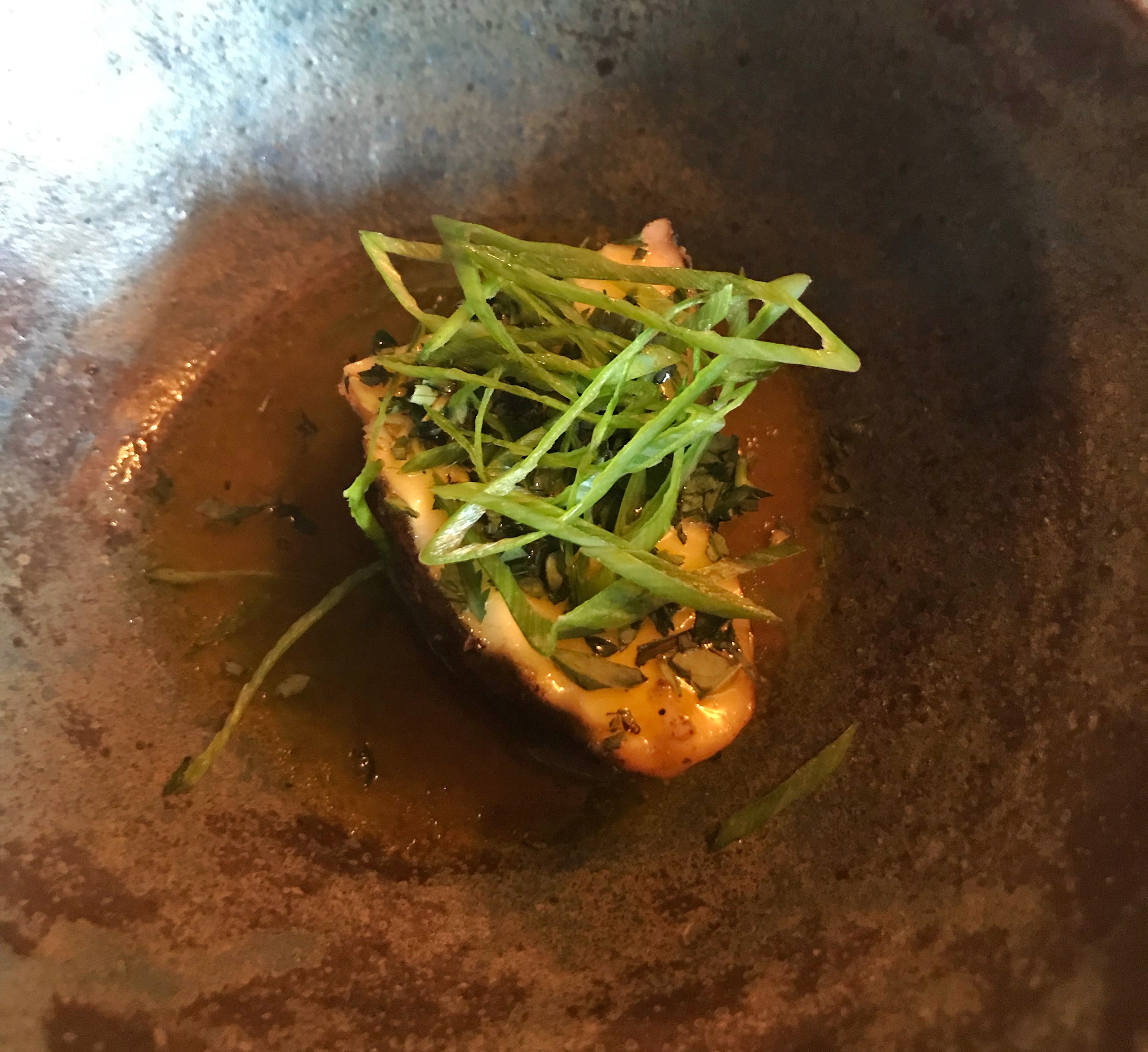 During our first dishes, I was a little surprised to see the head chef emerge from the kitchen and wander over to our table with what looked like a boulder. I wasn't expecting the delights within. This was no boulder but a whole chicken encased in salt clay that had been slow cooked in the oven.  This is the personality of The Moorcock in a nutshell. Fully immersed in the ingredients, the land, the flavour and wanting to share that journey with everyone who comes.
The dish was worth the wait. The chicken coated in rich chicken liver sauce with little bits of samphire adding seasoning and the gravy, oh my the gravy. Heaven on a plate.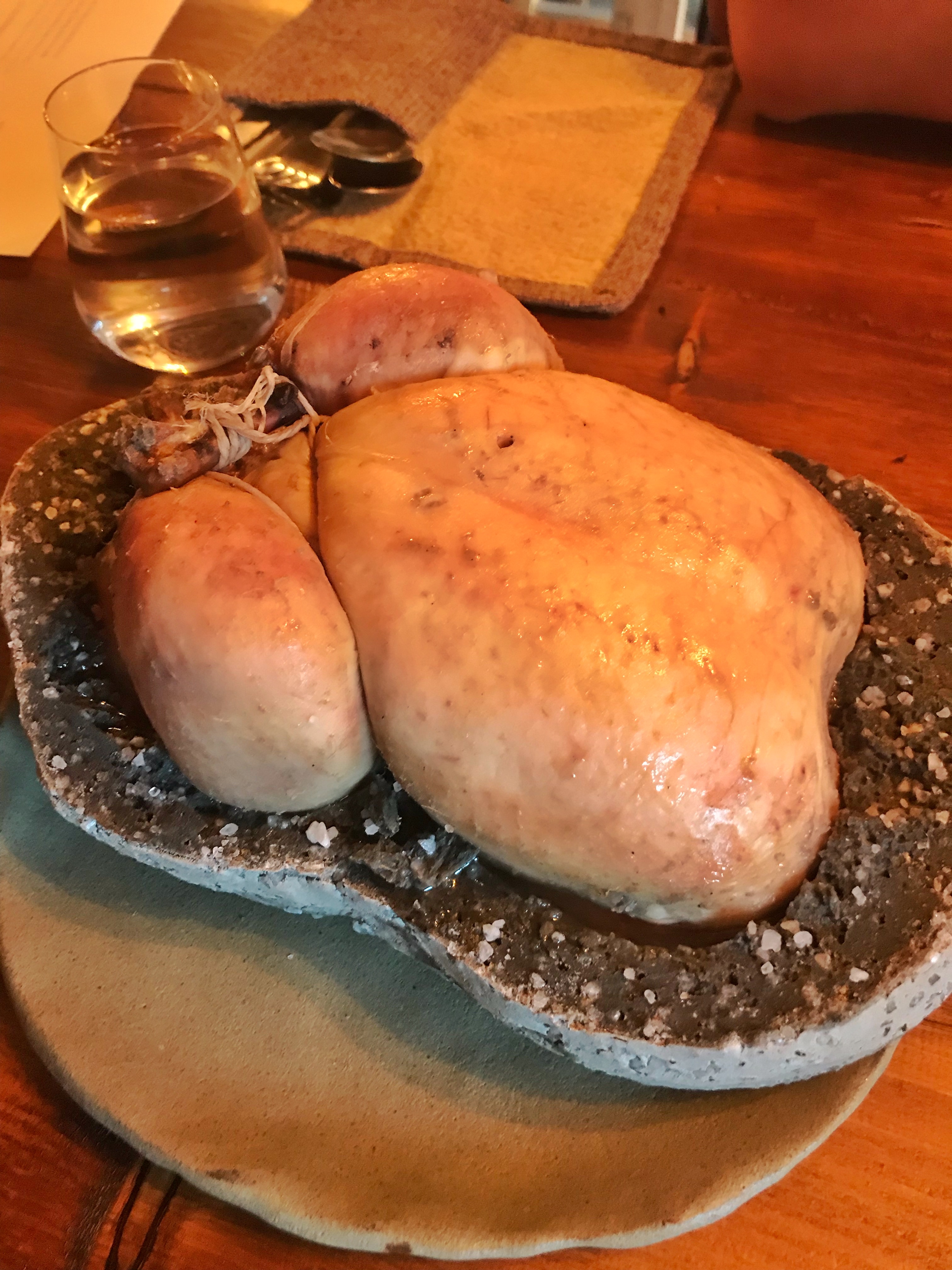 The cooling tea of sorrel and meadowsweet that arrived next was the perfect antidote to all that richness.  
I don't normally opt for a cheese course, I'm usually trying to avoid being overfed by the end of a meal but the offer of Botton Creamery cheese, Moorland Toome, to be exact, was too hard to resist. This needs no messing about. Some medlar paste and homemade oatcakes allowing the cheese to speak for itself.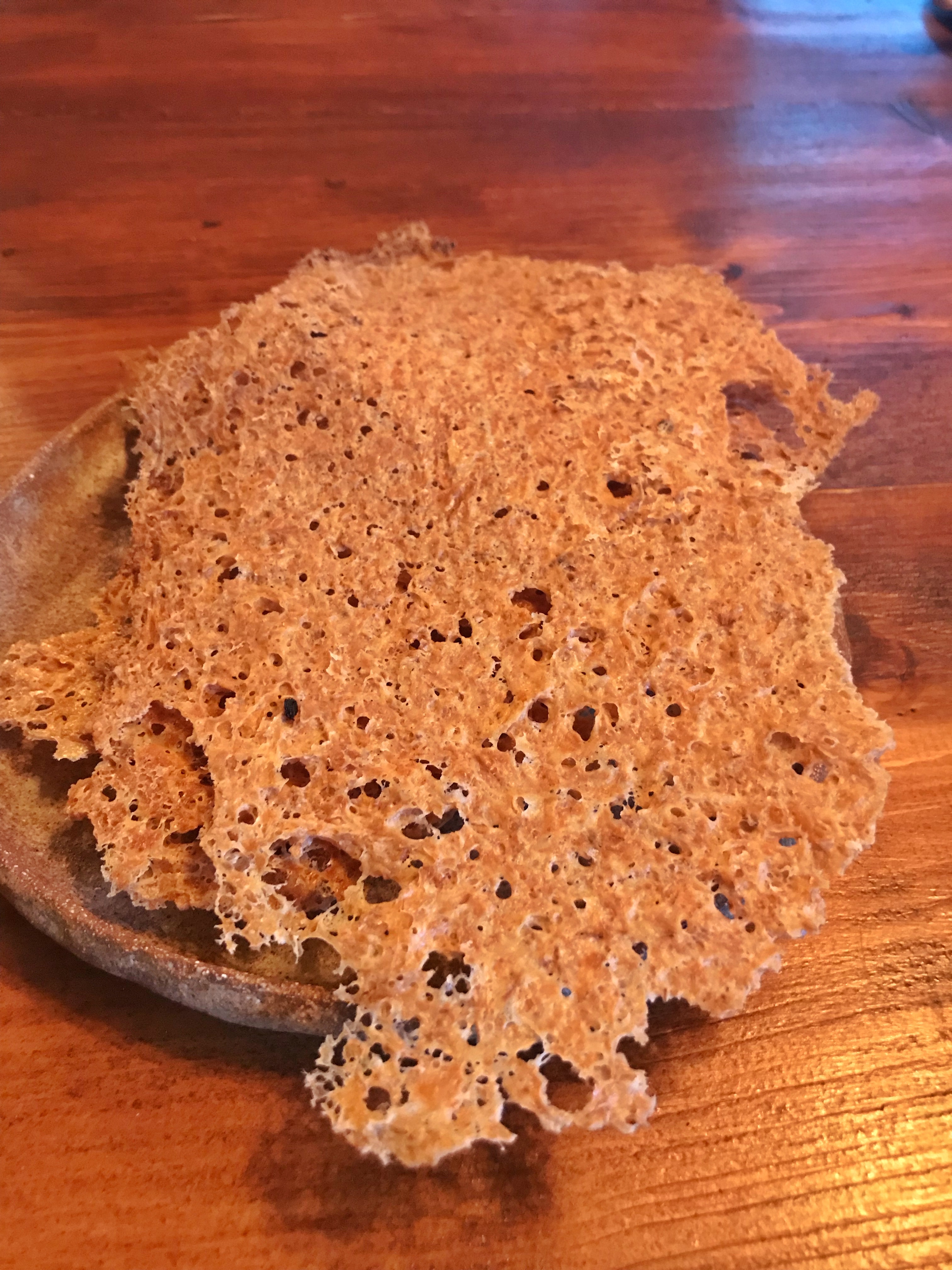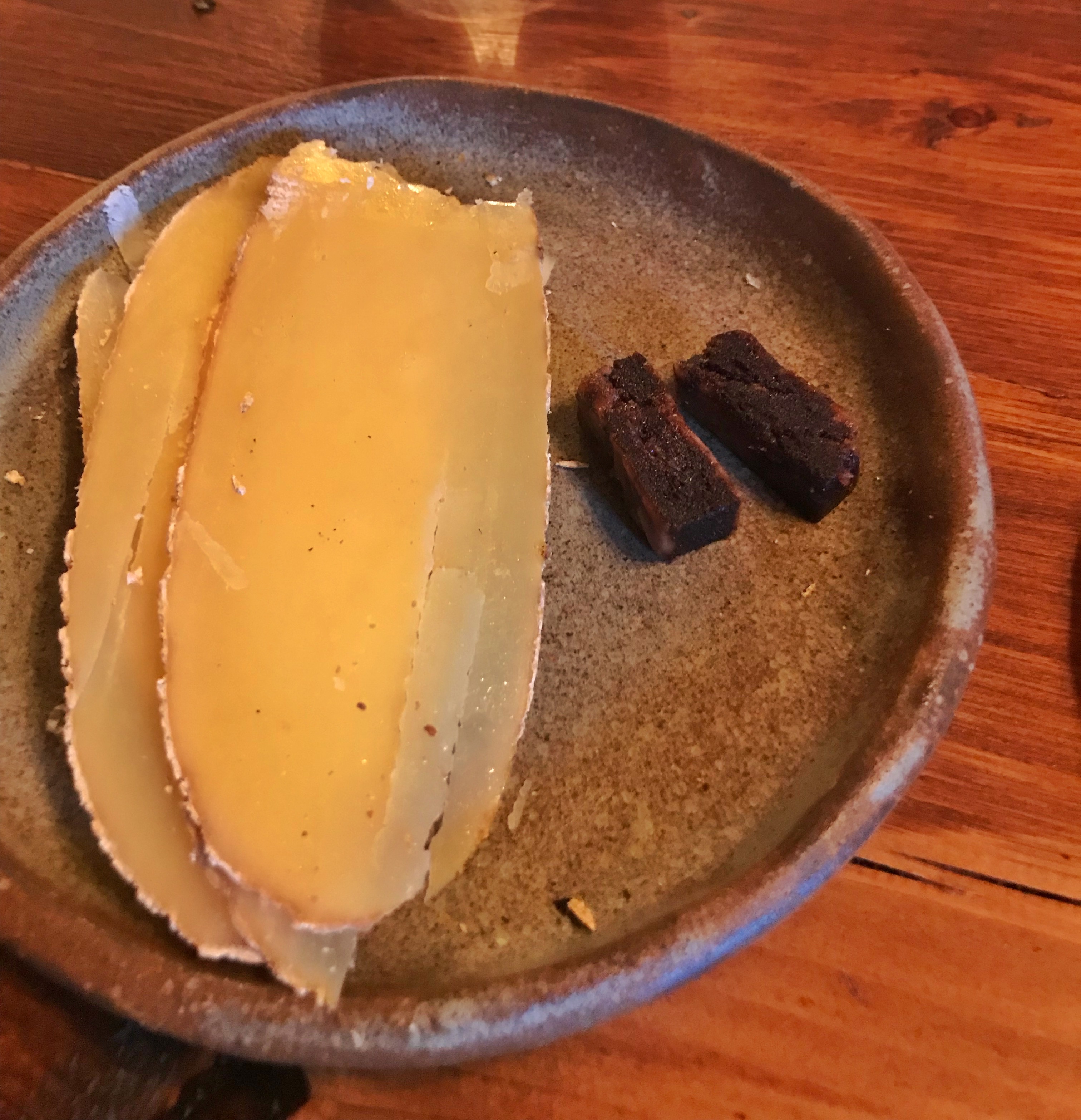 We rounded off the evening with pineapple weed ice cream and gooseberries. Simple again, full of flavour again. You don't see pineapple weed used much but I love it and it was perfectly placed in a light dessert to round off our meal.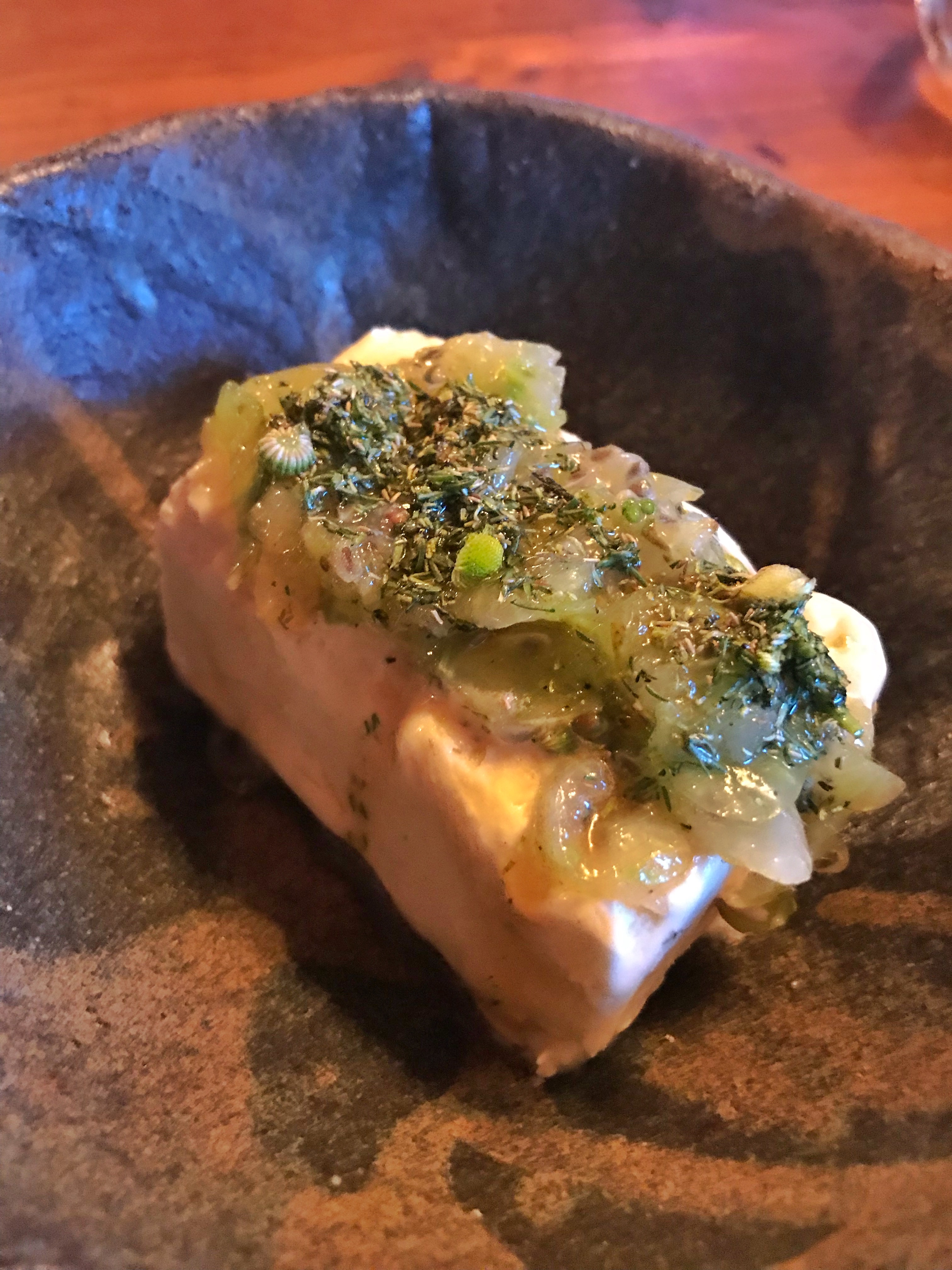 I want places like The Moorcock to thrive. Honest cooking; embracing simplicity and the seasons and bringing joy to those who go on the journey with them.
I'll certainly be back.