Wow. To be honest I could stop the review there. Aizle was wow, from beginning to end and it's been a while since I have had a meal that blew my socks off. Not one dish disappointed. Each was creative and interesting and left me asking 'so how did they do that'. I had high hopes when we first entered the restaurant and I spied chopsticks. I love eating with chopsticks and I really wasn't expecting that of a neighbourhood restaurant that serves a tasting menu.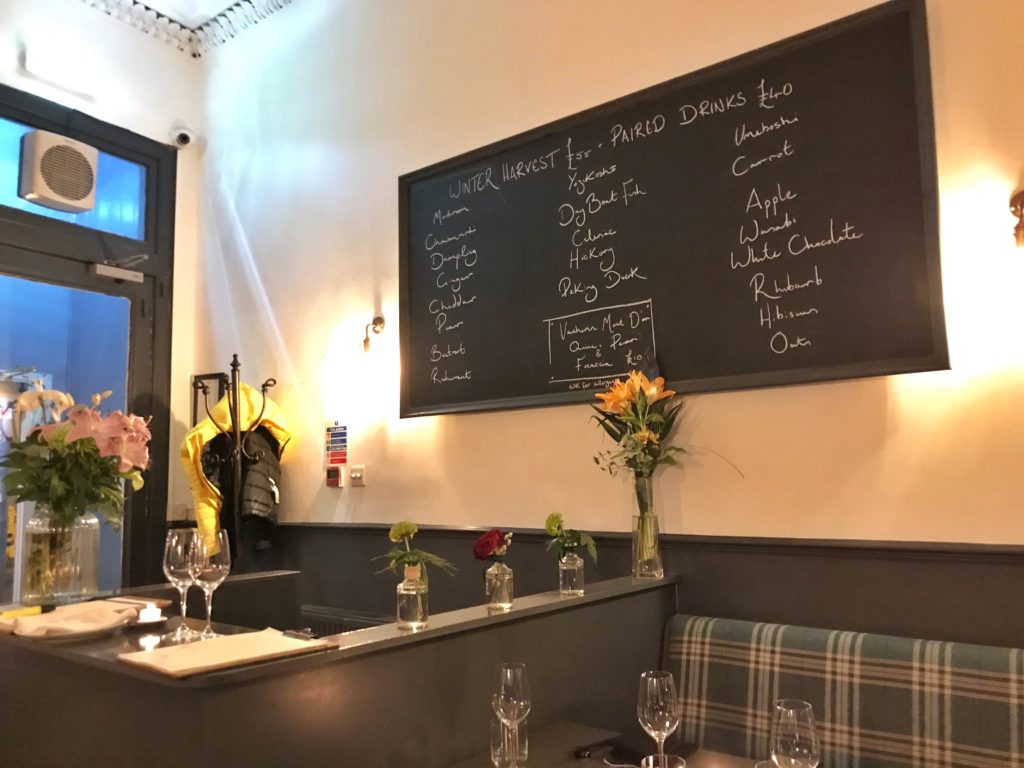 A few things really stood out about Aizle. Firstly the joy of a blackboard of ingredients and no menu. It might frustrate some but I really enjoyed playing a game of guess which ingredients are in this dish and what's still to come. Secondly the nods to Asian, particularly Japanese, flavours and ingredients through the menu. This wasn't fusion cooking but it was wonderfully played dishes using seasonal ingredients alongside Asian influences to create a brilliantly balanced and interesting menu. I loved everything, the relaxed atmosphere, the down to earth service, the mix of dishes coming from the kitchen and the little prep room near our table.
Dinner started with three snacks, a cheddar cornetto, using a hard cows cheese from Aberdeenshire with mounreyac pear, the most incredible duck dumpling with a five year aged soy dipping sauce and finally a mushroom flavoured Japanese savoury custard (Chawanmushi) with Jerusalem artichoke and Parmesan. All were delicious teasers of what else would come over the evening. The dumpling in particular was a favourite of mine, rich duck flavour and silky smooth dumpling, I'd very happily have eaten a bowl of them.
Following the snacks came the first dish, a tartare of beetroot with venison charcuterie cleverly mixed in with the beetroot and topped off with crispy noodle and yuzukosho, a fermented chilli mayonnaise. The dish looked simple but every mouthful introduced a new flavour.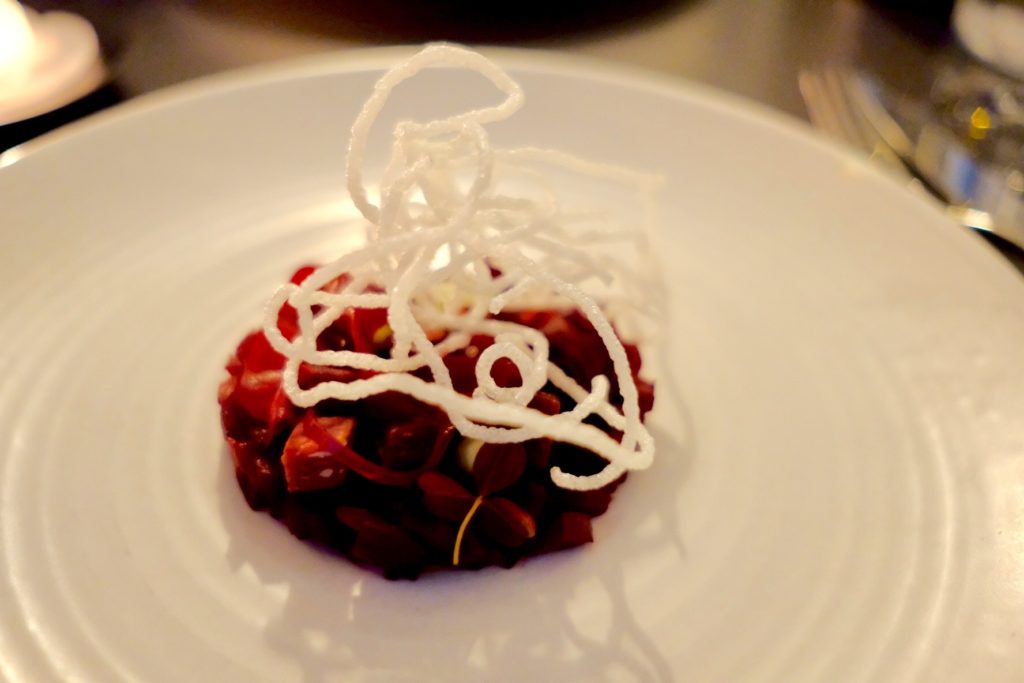 Next came our bread course, but this was no ordinary bread! This was a sourdough brioche bun filled with confit chicken and topped with truffle and an onion mayonnaise . Wow, wow, wow.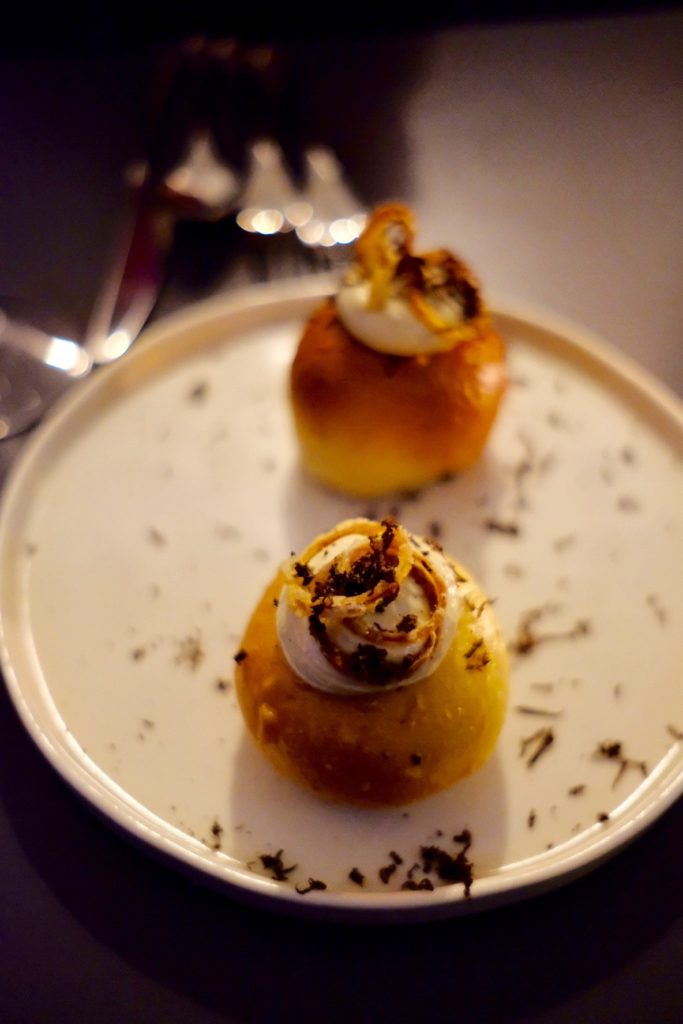 On to dish three and it was time for fish. Cod, celeriac and grapes. Classic cooking at first glance but again a twist with the cod being cooked in dashi butter and the sauce smoked over mussel shells. Simple, elegant, delicious.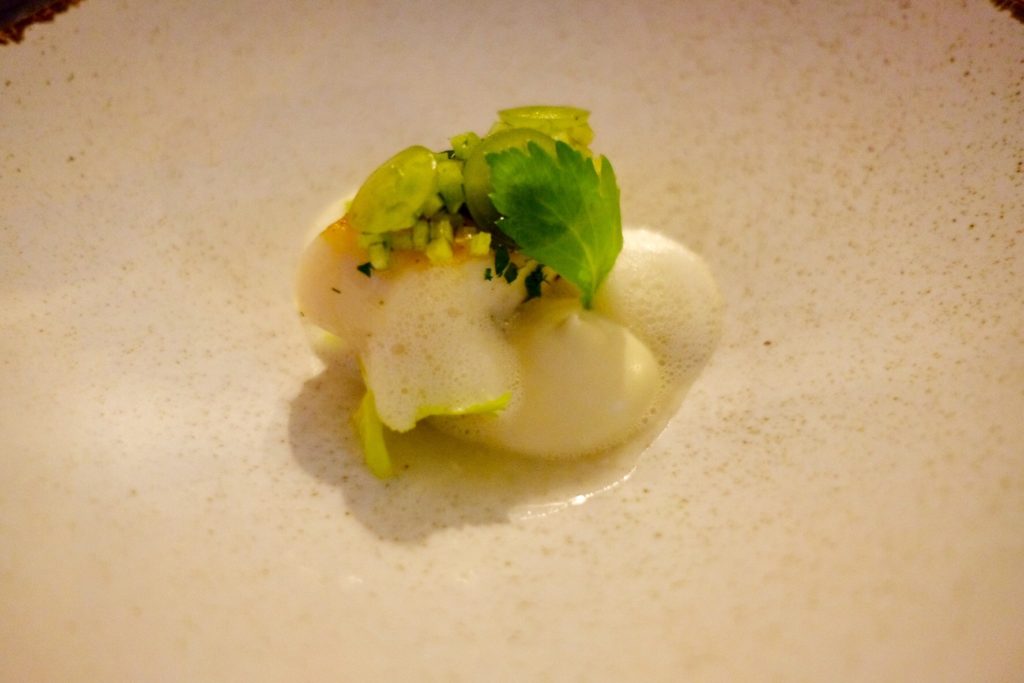 Dish four moved us into the main event and the meat dish. We revisited duck, this time Goosnargh duck crusted in buckwheat served with heirloom heritage carrots all brought alive with the edition of Japanese sansho berries. Yet again expert cooking making it a joy to eat.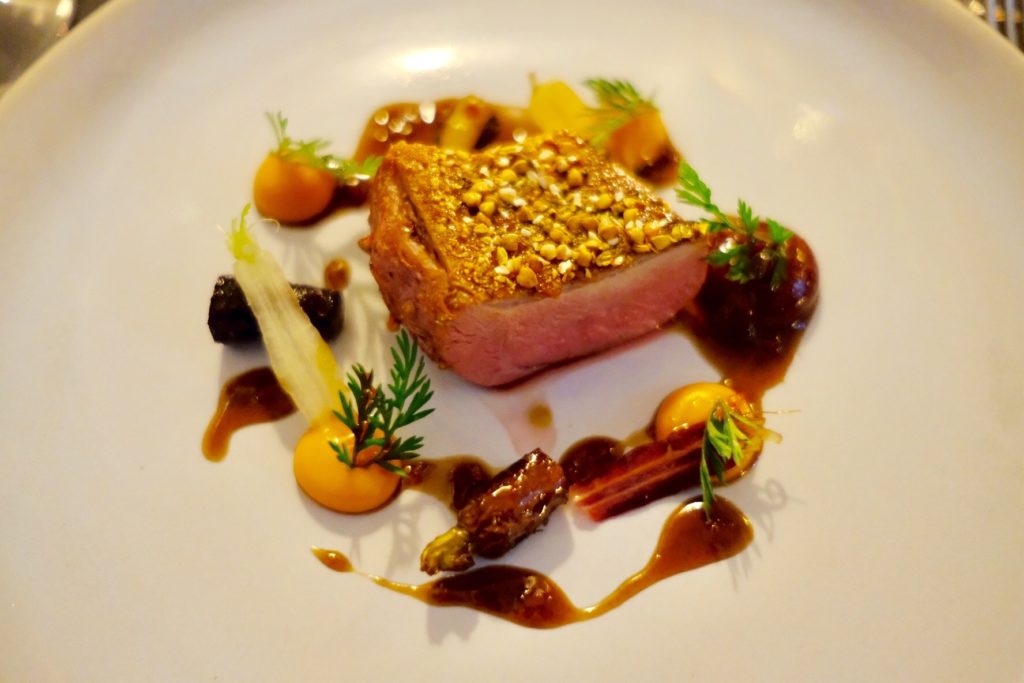 We don't often opt for the cheese course in a tasting menu but we were having such a good run we thought what the heck and had Vacherin Mont D'or with focaccia and the most wonderful little quince salad.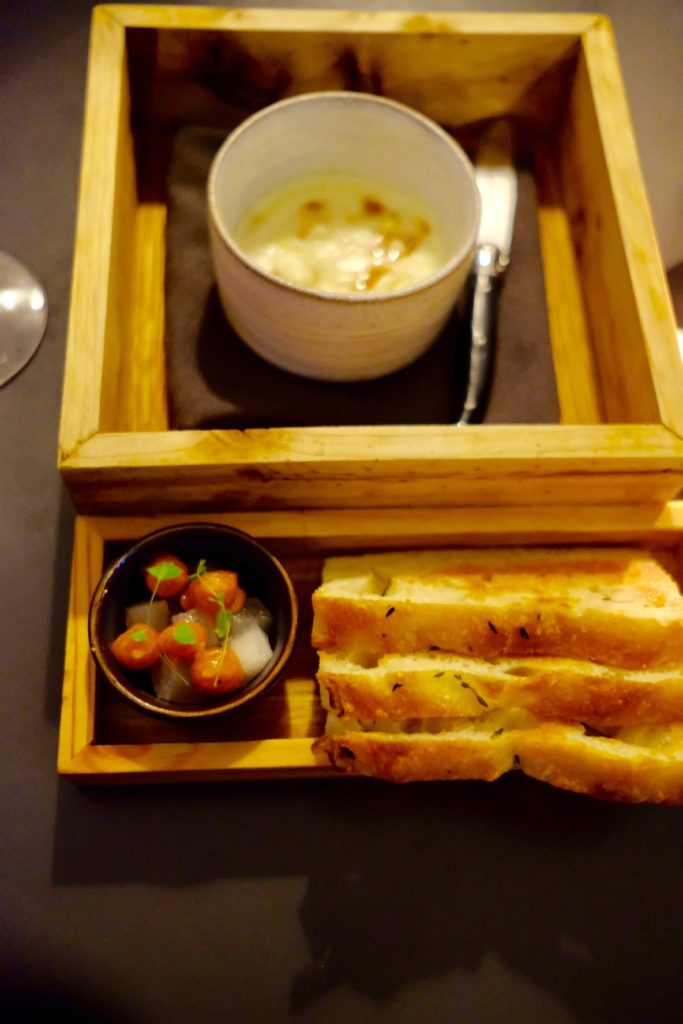 And so we were on to our last two dishes, the desserts. First up was a wonderfully light Granny Smith Apple with white chocolate and wasabi and then to finish it was yorkshire rhubarb with hibiscus and Scottish oats. Both desserts were wonderfully balanced with hints of savoury as well as sweet and the perfect way to round of a wonderful meal.
For our finale we had coffee and petit fours. Often something that disappoints me in restaurants is coffee not being given the same attention as the rest of the meal.  Many times I've groaned when I've read the word nespresso, but not here.  When the waitress uttered the words 'our coffee is from steampunk coffee' I nearly let out a squeal of joy.  This is a place that cares even about the coffee at the end.  An utter joy! And a cracking cup of coffee with my muscadet pumpkin and maple petit four.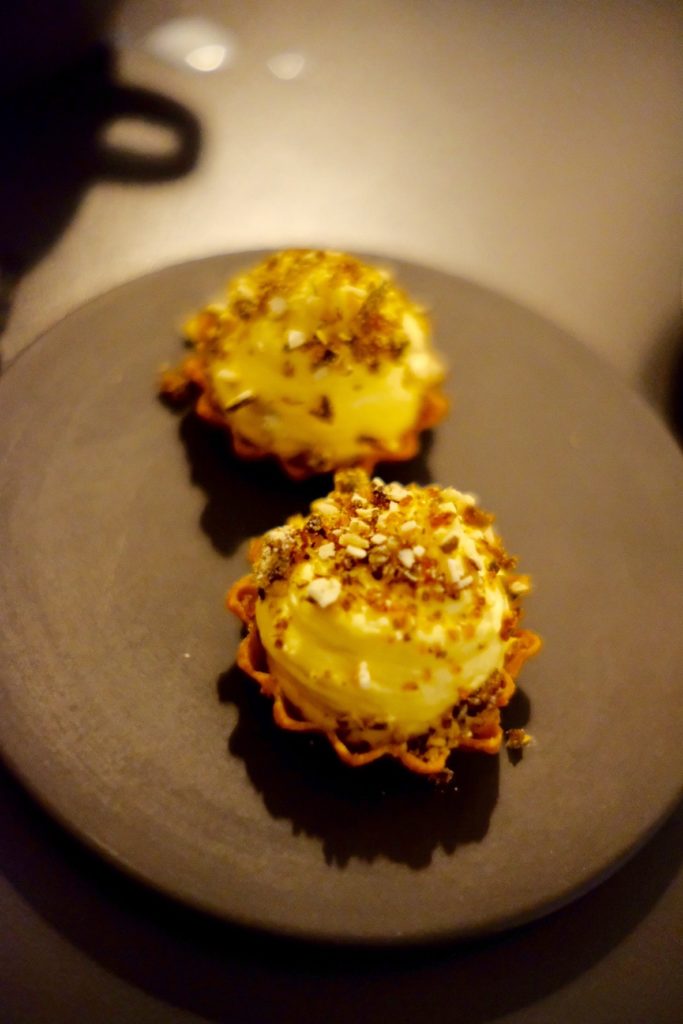 We left three hours after we arrived with a spring in our step at a fabulous evening and knowing we would be visiting again!