To quote Mr Frivolitea 'a neon sign means either very good, or very bad things inside'.
We'd heard some good things about this little restaurant in York, finally got round to booking in, and we can confirm this particular pink neon is a sign of VERY good things.
I'm a fan of a tasting menu, I love having no choice and instead enjoying several different plates of food that I may not have ordered. What made things even better was the wine list. Nyetimber on the menu -that immediately puts a big smile on my face (and a bit of a dent in my bank account).
The menu uses seasonal produce, changes every week and costs £35 for 6 courses. The food is creative, interesting and challenging. If you read the menu every week when they put it on Facebook (yes, I do that) there's always something that makes you sit up and take notice. The menu for our visit included many of my favourite things but in ways I could never have imagined.
Our first dish was a collection of little bites: Radishes with gremolata, Pain de Campagne with truffle butter and beurre noisette, a jar with goats cheese, Yorkshire rapeseed oil, provencal herbs & olive and finally burnt celeriac consommé with passion fruit. It was all beautifully presented and balanced. The highlight for me was the beurre noisette, wonderfully light and full of flavour. I was sceptical about the consommé but I can confirm celeriac and passion fruit work well together.

The second dish was textures of cauliflower with yeast, hazelnuts, pickled grape and baby sorrel leaves. Cauliflower is one of my favourite vegetables and this dish did it justice. The variety of textures really showed cauliflower at its best.
The third dish was glazed mackerel tartine (crushed almonds, Parmesan, sourdough) lemon jam, herbs and a soy based sauce. The mackerel was the star of the show and the tartine worked really well with it though I would have happily had more lemon jam.
Then we had a trio of Gloucester old spot, baby turnip, fennel foam, fennel tops and honey glazed apples. Pork and fennel are a tried and tested combination and I really enjoyed this dish.
The fifth dish was a lemongrass  chilli and ginger sorbet with Italian meringue. This was really fresh and zingy and worked well after the rich pork dish.
The sixth and final dish was pate a cigarette with strawberries, rhubarb, elderflower Chantilly and elderflower oil. I love rhubarb and this dessert was wonderfully balanced.
Mr Frivolitea likes coffee equipment and he'd been intrigued by the coffee siphon from the moment we walked in the door. So, we rounded off our meal with coffee and petit fours. The coffee was a fantastic bit of theatre to round off the evening and the petit fours of passion fruit jelly, chocolate and peanut butter lollipops and Bordeaux cakes with rum and vanilla were a final reminder of the quality and creativity of this little restaurant.
So, we were done; we'd eaten well, and we were ready to go home, but Le Cochon Aveugle had one last surprise for us. Breakfast! A little parcel of banana bread for Mr Frivolitea and the best florentine I have ever had (as I can't eat banana).  A really thoughtful touch. We enjoyed our breakfast at Flamborough Head the next morning on our 12 mile walk .
We will be back and next time we will definitely include the wine pairings. £63 for the 6 courses and wine pairings with food of the highest standard – that's fantastic value!
Olivia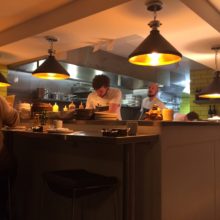 Skosh
5 years ago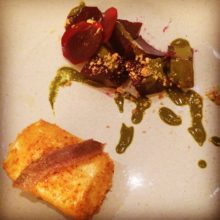 Street Cleaver Pop Up
5 years ago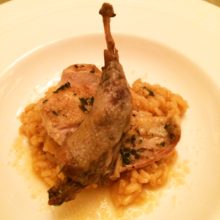 Sara @ St John's
5 years ago