I just happen to be sitting opposite Jay Rayner at Monmouth coffee company's Borough Market cafe. Not long ago I spent a day with him in London learning more about the craft of writing (with several other people I hasten to add) his simple presence this morning reminded me that I've not written in a while and I should, in fact the place I want to write about is a place he visited in Northern Ireland a while ago and was on my list for some time. Now living part time in Northern Ireland makes getting through my list of places I want to eat a bit easier. And so I finally make it to Noble; it was worth the wait.
Noble seems a rather unassuming little place on Church Street, Holywood but walk through the door and up the stairs and you need to be prepared for anything but. Noble might be a physically small space but it is big and bold and beautiful in its offering. Noble is a place that believes in itself and its ingredients; no flashy touches, no foams or faff just delightfully perfect cooking.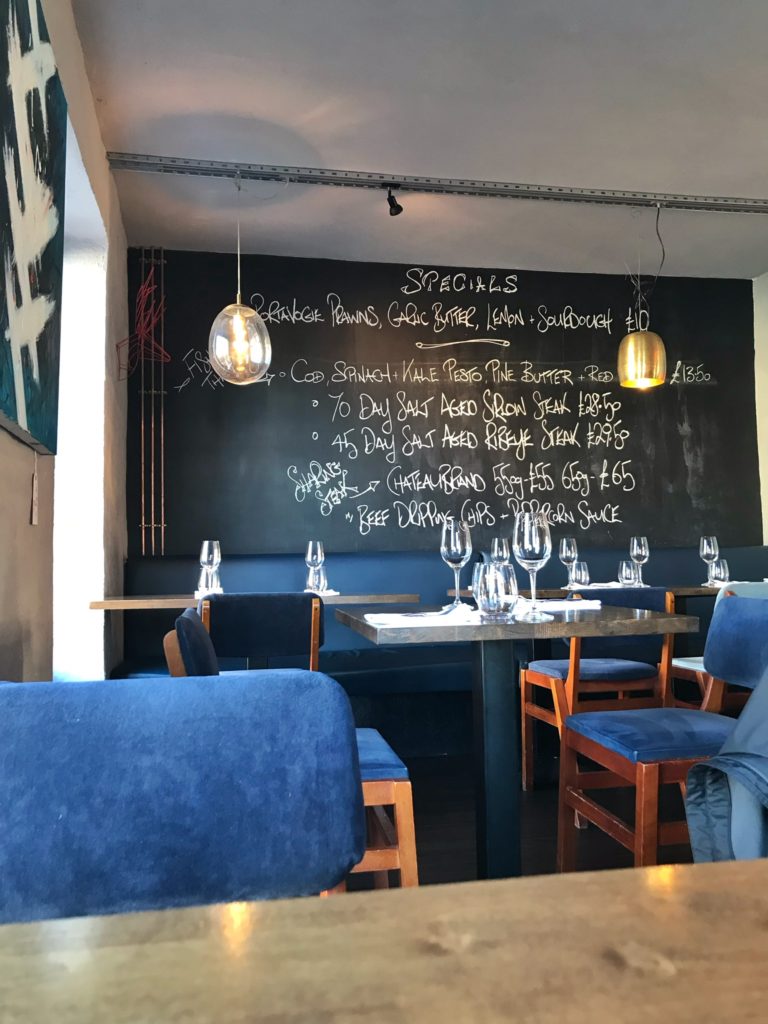 You can go for the lunch / early doors menu, or at least you can plan to, but rest assured you will look at the specials and the fuller menu and be swayed.
We started our afternoon off with a glass of wine (our Austrian waiter was delighted with the choice of Grüner Veltliner) and some padron peppers before settling on starters of Parmesan arancini with an addition of truffle and Portavogie prawns with garlic butter and lemon. Classic dishes beautifully executed.
For mains Mr F chose the suckling pig and I surprised myself by going vegetarian but boy am I glad I did. The roast cauliflower, spiced couscous and onion Bhaji dish was exceptional. The flavours were perfectly balanced and it was an absolute joy to eat. We finished the meal off with a pear and bramble tart and a Parkin and burnt apple dish and the only comment would be that it was more a cake than Parkin. It didn't have the chewy texture Parkin should have. The danger of a Yorkshire man ordering Parkin outside of Yorkshire!
There is always a risk when you've been looking forward to visiting somewhere for sometime, and twitter friends have frequently said it's excellent, that it will not live up to expectation. Well Noble did and more. We will certainly visit again and be telling others about it.